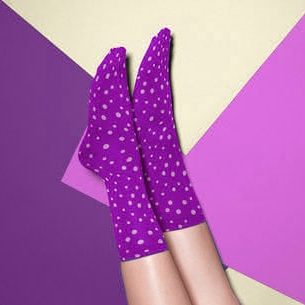 A couple of weeks ago, while I was getting dressed one morning, I noticed something strange happen: I stood in front of my wardrobe, deciding what to wear… I felt instinctively that today was a day for my purple socks. But almost before I'd registered the thought, my mind had dismissed it as 'too frivolous for a day of meetings'. I picked out a pair of sober navy ones instead, but then found myself having difficulties trying to reconcile them with the shirt I wanted to wear (yes, I do like to co-ordinate my outfits!).
While becoming increasingly indecisive about the whole ensemble I spotted the purple socks again, and remembered my initial impulse. So I followed it.
Trust your instincts
Who knows if my day of meetings turned out better or worse because of the socks I was wearing. What I do know is that giving myself something I wanted made me feel more valued, and trusting of my own instincts and abilities. It reminded me that I do know how to look out for my own needs – and that's important when interacting with other people.
In a world where our needs can get over-ridden hundreds of times a day, most of us have become numb to the subtlety of our genuine desires. When we're constantly being told what we ought to want, or what other people want us to want, it's hard to know what we actually want!
It may seem trivial when we're talking about socks, but magnify this up to how we want to be touched by a partner or or even a family member, and it's not hard to see how being unable to value, trust, or even notice our own instincts could lead to some serious lack of consent (or at the very least going along with things we don't really want)!
Start small – and practice lots
This stuff takes practice – and we need to start small. In order to have consent in the bedroom it helps to learn how to have it everywhere else first!
Luckily I'm offering lots of opportunities this autumn, in Scotland and London, to learn and practice these essential skills.
Check out my Events page for more details, and learn how it feels to get what you want (purple socks not included)!
The quadrants
Each quadrant in the Wheel Of Consent creates a different experience and teaches you something different about yourself. Learn more about each one:
Enjoyed reading this?
If you've found this page helpful you can get more tips and resources for better relating straight to your inbox. Sign up here and get my free How To Be Heard guide to start you off:

If you think giving and receiving don't need to be explained you might be surprised by this handy guide that breaks down the differences
Read More
Online. Discover a whole new approach to touch that will change how you feel – literally! A short, affordable, practical guide you can learn in less than an hour a day.
Read More