Why touch is so important
Touch is the central interface between our bodies and the outside world. The first of our senses to develop in utero, we begin to feel things just weeks after conception, and this sense never turns off or takes a break – often continuing to allow us to experience the world even after other senses fail in old age.
Recent research has revealed that people can not only identify, with startling accuracy, emotions – such as anger, love, gratitude, and compassion – from a single touch by a stranger they cannot see, but they can differentiate between those kinds of touch, something we don't do as successfully in studies of facial and vocal communication.
The science is indisputable and shows that touch is also a vital part of staying healthy, influencing us in a myriad of ways – from weight gain to stress.
Learning through touch
Our primary neural pathway for processing information is sensory. So learning through the body – by using touch as the learning container –  is an ideal way to learn about ourselves in a way that really sinks in. As valuable as theory can be there's really no substitute for physical experience.
Learning using the Wheel Of Consent is not about giving pleasure. It's about learning to wake up the nerve endings, and about who's doing the doing and who it's for.
Teaching through touch
Although teaching the Wheel Of Consent uses one of the body's primary learning routes of safe, intelligent touch as a learning container, the focus of this work is not on the touch itself. Instead it's a powerful inquiry into knowing what it is you want and how to communicate it – where the choice NOT to engage with touch is just as welcome.
"People are not mind over matter ("If I think differently I will be different"), nor matter over mind or spirit ("A change in chemistry or medication will wholly change my experience").

Rather we are all of these things combined – we are thinking and conceptual, we are emotional, we are biological and we are spiritual.

Somatics approaches people as the integrated whole, working with all of these aspects of who we are"

Staci Haines Somatics Expert & Therapist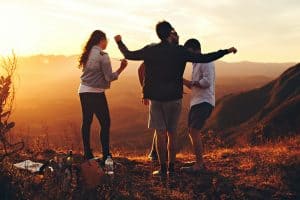 Anxious about re-engaging with interactions after lockdown? Here are 3 simple ways you can help yourself – and others – feel more comfortable
Read More
Online. Discover a whole new approach to touch that will change how you feel – literally! A short, affordable practical guide you can learn, in less than an hour a day.
Read More
Nov 7 – Dec 12, 2021. Online, with Robyn Dalzen. Learn embodied consent skills to ask for what you want, set clear boundaries, and be empowered in your communications and connections.
Read More